This post is also available in: Norsk (Norwegian )
This might be the hottest place to do Pilates in LA. In the middle of Beverly Hills – situated across the luxury hotel Peninsula. Here you might even spot Sylvester Stallone or Naomi Campbell and this is the place where the rich and famous seek quality workout in a private and intime studio.
I did a google search and found this one on the top. But with a city with a population of about 15 millioner people there are obviously many places and studies of quality and with respect for the method.
But this cosy Boutique studio called my attention.  Natural Pilates is located in Santa Monica Boulevard and I got to meet the owner Laura Bogdanuic.
The studio has about 11 Stott certified teacher. They offer 85 classes every week which includes Reformer, Wanda Chair, Vertical Frame, Matte, Cadillac and Gyratonic. Also the offer privates using different equipment also like Ladder Barrels, Spine Corrector, Arc Barrel and many great props. If you are interested in the Pilates teqnique and the chronology this studio is really worth a visit while in Los Angeles. It felt truly private and exclusive. And I guess people in LA really can pay 40 dollar for a drop in class as long as they get a full quality workout.
I got to talk with Laura after class. From my prespective it´s really interesting to see and learn how the business is done here compare to back home in Oslo. We can always struggle to get even better in our work and to find the inspiration.
What are your core values at the studio?
"It is designing an individualized program for each client based on their goals and injuries.
Costumer service is the most important aspect as the reception and instructor represent the brand, calling people back within 24 hours for their inquire."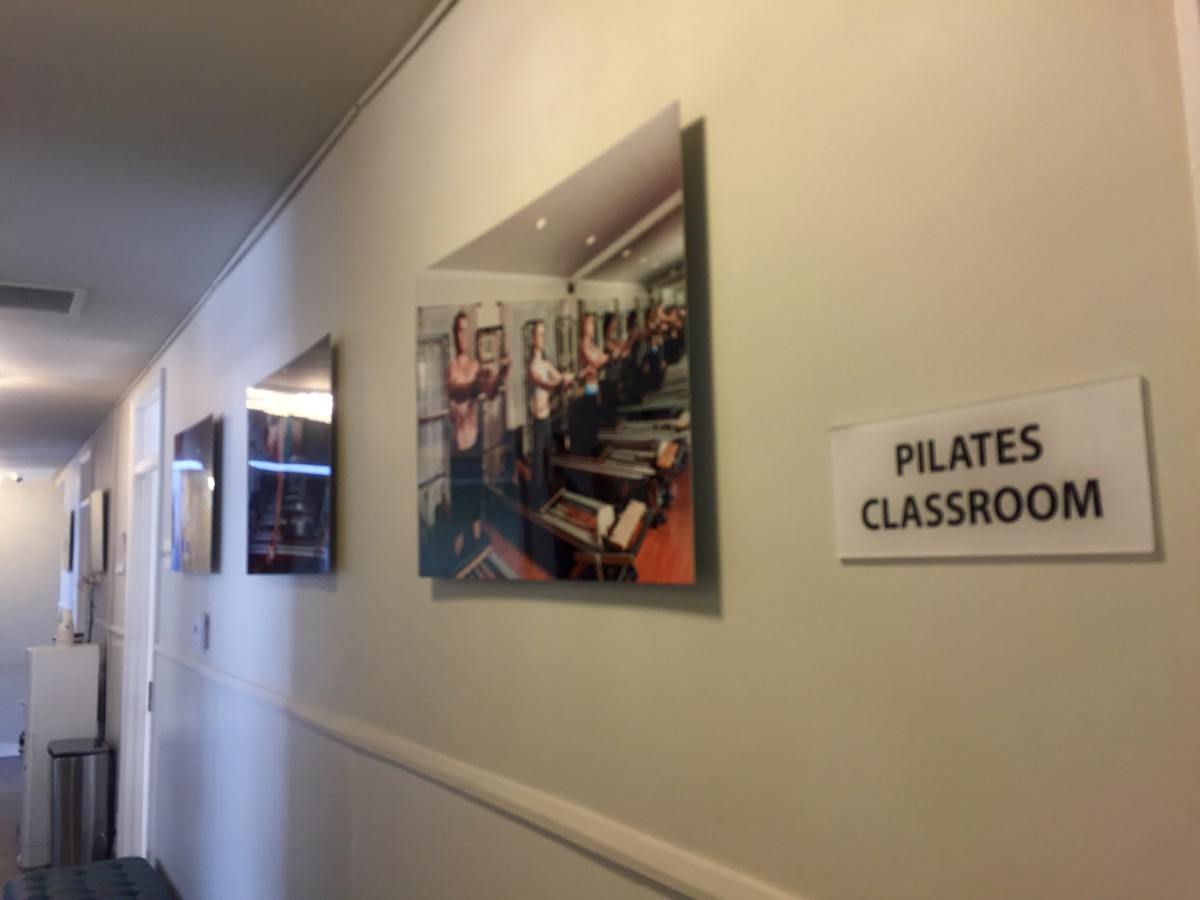 What kind of teacher trainings do you do at your studio?
"Our teacher training focuses on understanding the anatomy and phisionomy of the body. It´s important to understand the mechanics of the movement and also understanding the exercises and how they can be modified based on the structure of each individual. Also create simple exercise following each muscles fibers action.
How is the interest of pilates considered to be in Beverly Hills? 
"Is pretty high . We are staying very busy."
Is there some celebreties coming to your studio?
Yes, lots of models and celebs like Naomi Campbel, Sly Stallone, Robin Tunney, Michael Fastbender …
What is most common, classes or privates or a combination?
We do a combo. Some people prefer only classes but some take classes and privates.
…
Så kanskje ikke veldig ulikt Norge isolert sett, men med tanke på at byboerne her trener mer enn en gang daglig er det helt klart fullere lister og mer kamp om plassene.
I can warmly recommend to drop by and test a class while in Los Angeles,
Best wishes Monica
Instagram: @naturalpilates
web: www.naturalpilates.com