Monica Øien is founder and owner of webtrening.no. She is certified pilates- og yogateacher and co-owner of Scandinavias biggest Pilates,Yoga og Bodyworkstudio; The Room located in Oslo. Monica is also a jewelry designer and her brandname is Inmotion Essentials. Monica has been working with celebrity fitness guru Tracy Andersons and tarnend her method during almost 10 years. Attending different courses in New York, Los Angeles and London. Tracys Anderson train people all over the world claiming we can all have a dancers body and she has trained celebrities like Cameron Diaz, Madonna, Gwyneth Palthrow and Jennifer Aniston. Inspired by her method Monica has designed the concept "Hollywood Style Bodysculpting" which is a total body workout method and a combination of  Tracy ´s Method, Pilates, strength training, yoga and meditation. She is a trained TRX teacher but using careworn in her sequences. Monica is doing the teacher training in Oslo in both "Hollywood Style Bodysculpting" and "TRXcore» at The Room.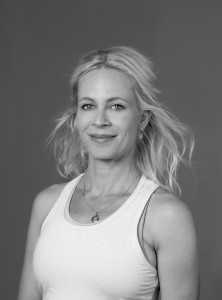 Monica has coregraphed and produced three fitness DVD´s and published several boks. She had her coach licence in 2009 by Famlab and Jesper Juul. She has been working for the biggest commercial Tv channels in Norway as a host, documentary producer and reporter. Monica is ambassador for the swedish fitness clothing brand Casall. Monica is one of the bloggers under Norways biggest female magazine  www.kk.no She is an experiences journalist and columnist. The focus on her blog is «feelgood workout» and her greatest values is that everybody can achieve something and that a little motion every day even if its just a few minutes is the goal for a happier lifestyle.
Monica is currently living in California studying the chakras and designing new fitness and workout concepts.
After 20 years in the media and Tv business Monica has now a full time focus on coaching people to live a healthier happier and more integrated life. If you need business coaching or simply need a private training helping you to kick start an new life Monica is doing Skype sessions from her studio in California: For inquiries please contact Monica here: mail@monicaoien.no
Monica on instagram:
@monicaoien @inmotionjewelry @spiritualftnessnorway
Workout Education:
Seminarleader for Jesper Juul – www.famlab.com 2009
Reformer Pilates instruktør – The Room 2011
Pre- and Post Pregnancy Pilates – The Room 2011
Fitness Nutrition Coach – www.nestacertified.com 2012
Matte Pilates Instruktør – The Room 2012
Formroller kurs – The Room 2014
TRX instructor all levels – Heartcore London 2014/2015.
Healthy Back Yoga – Ryan Besler-Yasa Yoga – 2016
Awakening Yoga med Seane Corn – California 2016/2017
Chakra and Pranic Healing Coach – California Lani Reagan 2016/2017
Intuitive Eating Coach – California Evelyn Tribole – 2017
YTT – White Lotus Foundation – California 2016/2017