I was in San Diego just a few weeks ago attending some Chakra Meditation classes and was actually very eager to visit a plant based fast food restaurant I had heard of. This was my first trip ever to San Diego and I was spending the weekend at Ocean Beach. A small, hippie relaxed beach town with tons of yoga studios and healthy restaurants. Well I guess there is no place on earth more updated and health focused then California. I get surprises and inspired every day. There is always something new to learn, taste and test.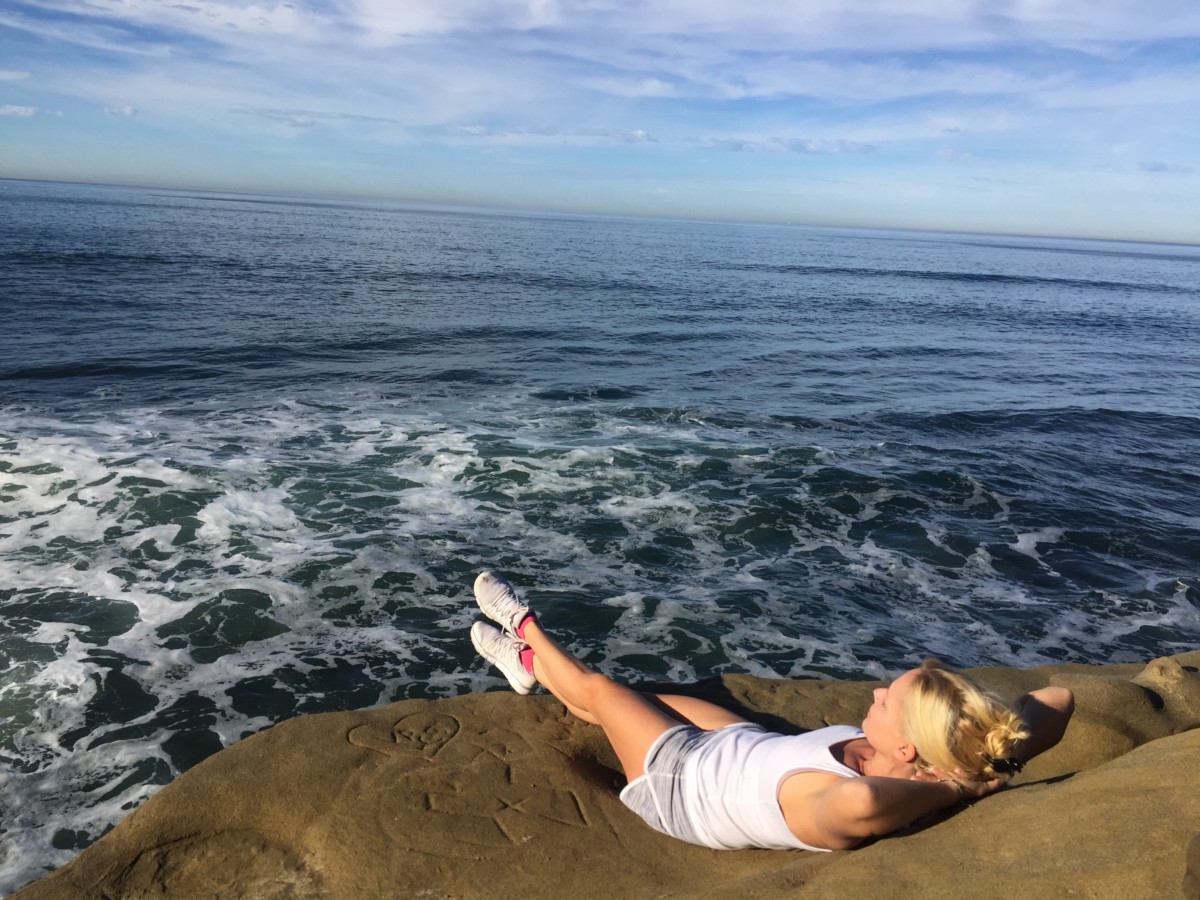 Luckily I got to meet the owner Jeff Harris who created this concept with a delicious menu. Chicken burgers, but no chicken. Meat burgers, but no meat. And even the most tasty milkshakes I have ever had, but no milk. Jeff even claims that most of their customers are meat eaters who are trying new things and want to make healthier choices. After the interview I will tell you about my experience with the food.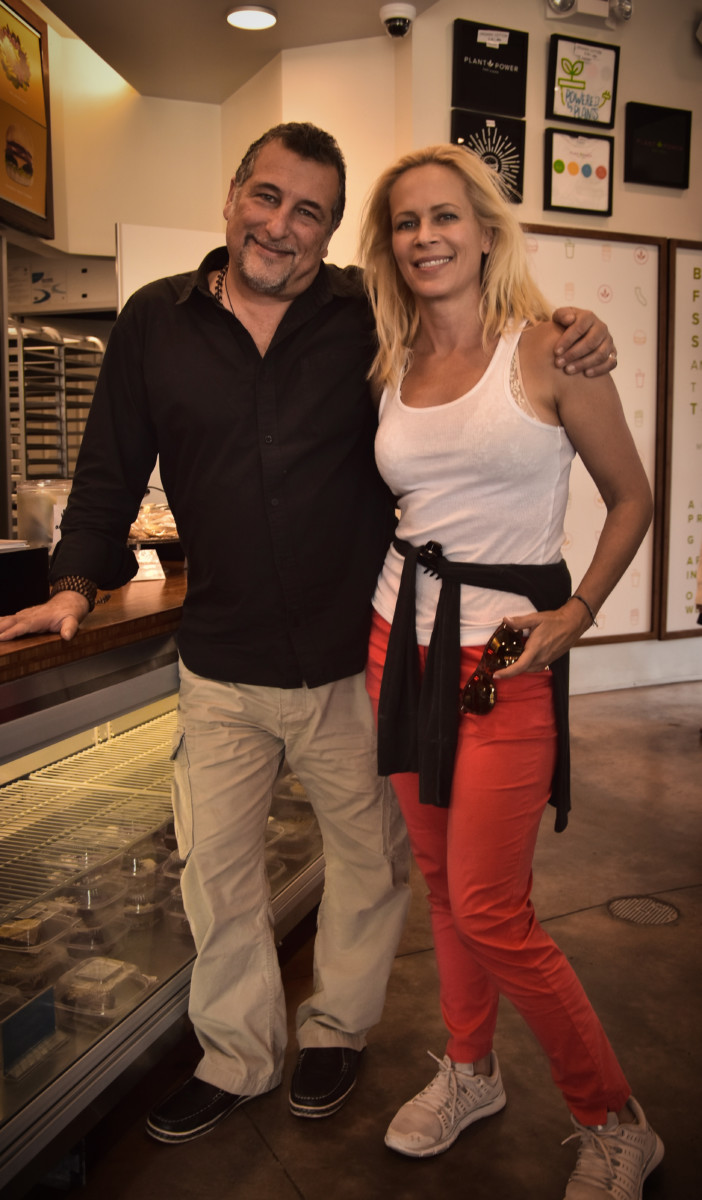 Tell me about the concept and what made you decide build up a healthier version of fast food?
I wanted to build up a plant-based healthier version of McDonalds or Burger King because most of the food available at those types of restaurants aren't very good for our health. Many of us have driven down the street passing one fast food restaurant after another, wishing that there was something that was fast, healthy and delicious.  That's why we created Plant Power Fast Food. We've also been concerned about the devastating impact that animal agriculture is now understood to have on the environment and been painfully aware that the consumption of animal products creates unnecessary suffering for our animal friends.  So,  we thought that it would be interesting to turn the traditional unhealthy fast food model on it's head and use it to bring natural, plant-based, GMO free food to a larger audience.   Our menu ranges from the burgers, fries and shakes you'd expect to find at McDonalds, In and Out Burger or Jack in the Box, all the way to healthy wraps, smoothies, salads and raw items.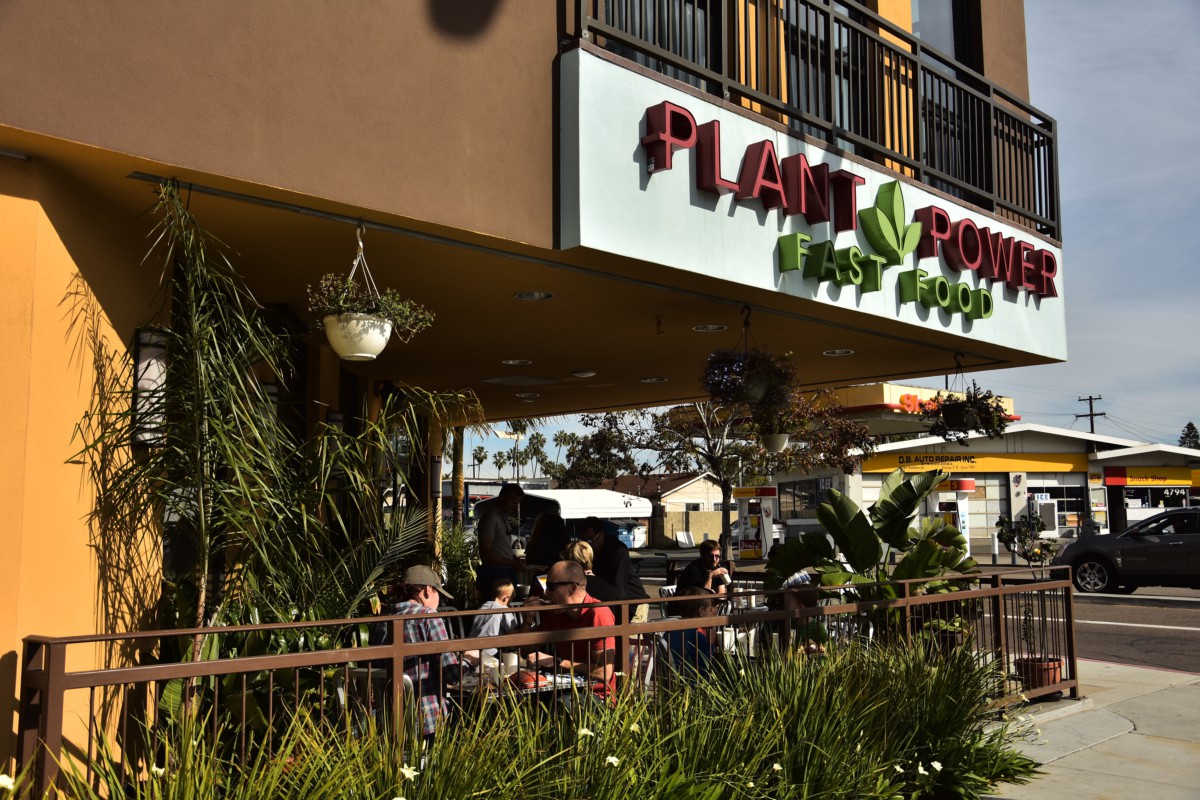 Yes, you serve 

chicken warps and burgers, but no meat. There's a great variety of milkshakes but no milk? How do people respond to this? 

We're careful with signage in the restaurant and the use of quotes on our menu to make sure that everyone understands that the "chicken" or "beef" on the menu is in fact plant-based and contains no animal products. Omnivores wouldn't feel too happy if they were "fooled" into eating vegan food and the vegans and vegetarians who frequent our restaurant need to be assured that the food they're going to consume  doesn't contain any meat or dairy products. What we keep hearing from our customers is that they didn't realize how delicious plant-based food can be.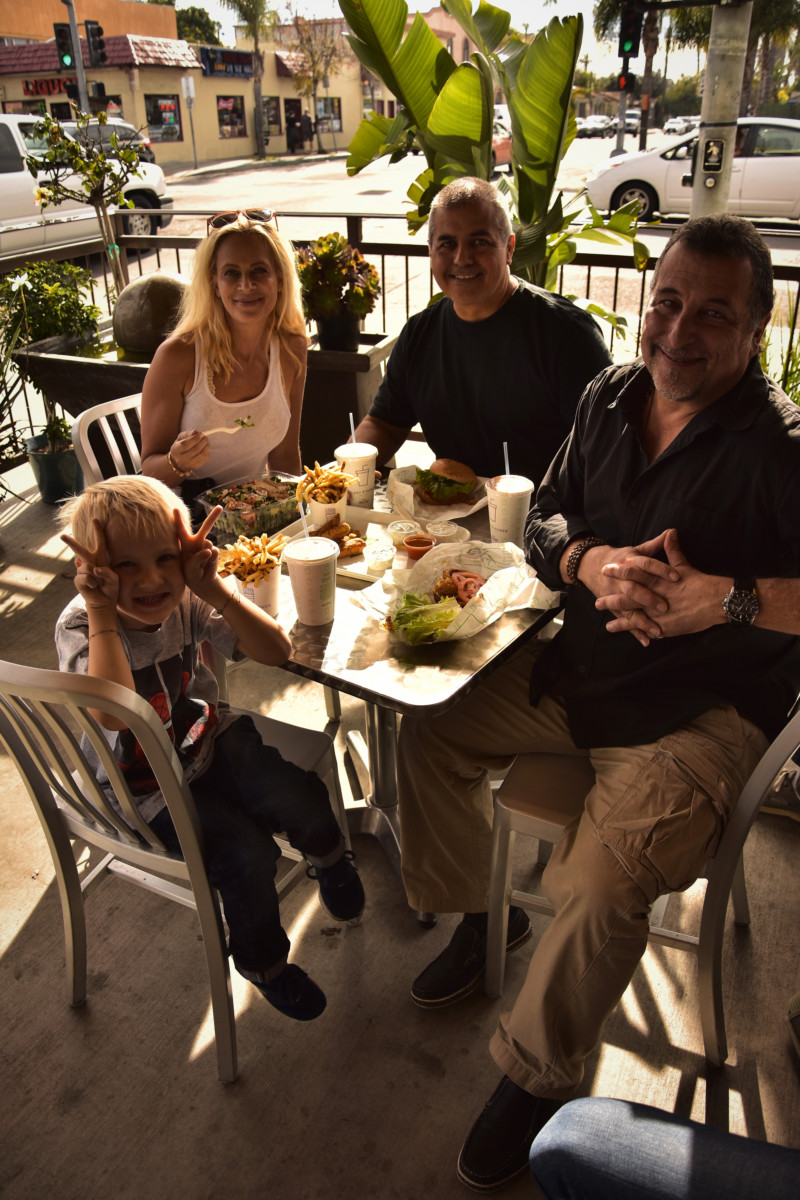 What kind of ingredients are you using?

We use fresh, locally sourced produce and the majority of our products are now organic.  Our "meat" type products are made from a combination of grains and vegetable ingredients.  Some items, like our "Black Bean Patty" are made from legumes and vegetable products.  More and more we've increasingly incorporated gluten-free options on our menu as well.  All of our products are free of artificial sweeteners, colors and GMO's. 


Where do you get the food from? 
Produce is all sourced from local farmers.  Other items like bread products and the many ingredients we use to prepare our house-made sauces, deserts and patties are purchased from natural food distributors.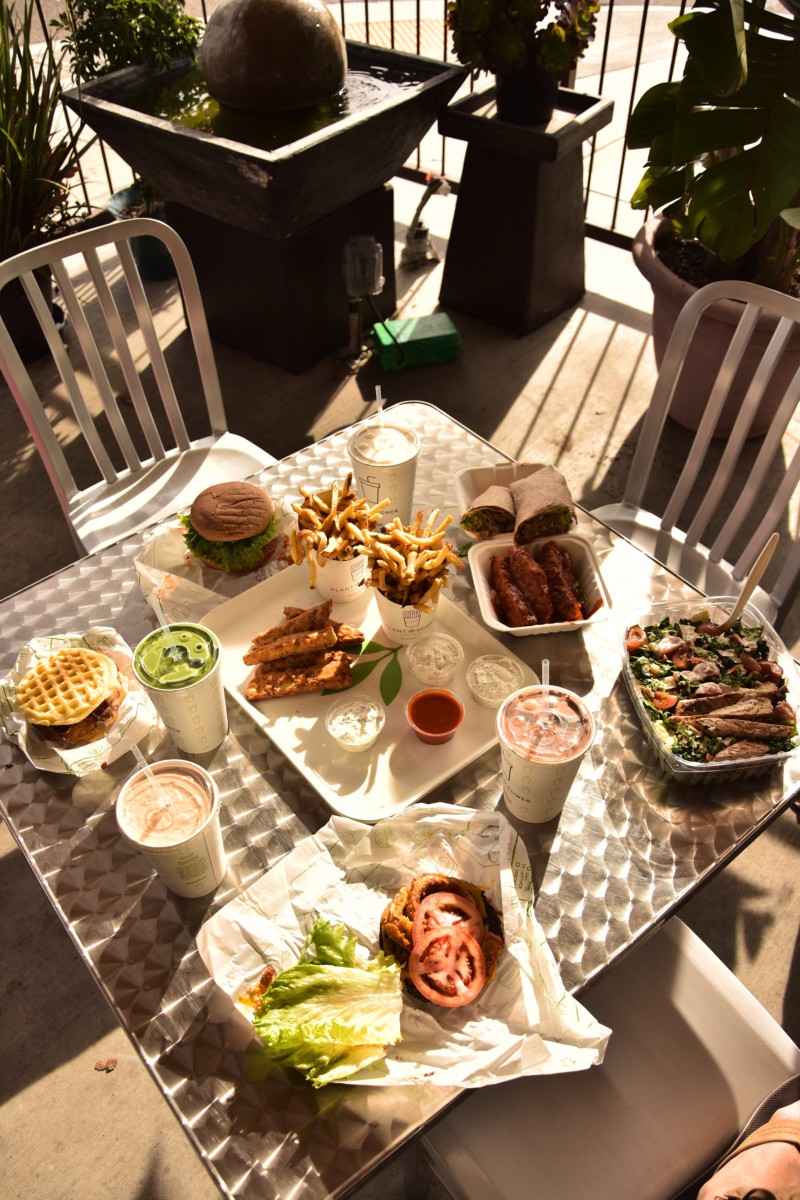 What is the nutrition in a general meal at Plant Power?
Because all of the food at our restaurant is plant-based, everything we serve is free from cholesterol and also from  the antibiotics and chemicals which are frequently found in animal products.  Also, all of our food is free of GMO's, artificial ingredients and hydrogenated oils.  While the meals are Plant Power Fast Food are much healthier that what you'd find at a traditional fast-food restaurant,  some items (like French fries and "chicken" tenders) are not necessarily low calorie.  Our burgers, fries and shakes are much healthier than what you'd find at other fast-food restaurants while other items like salads, wraps and raw items could be considered  to be "very healthy".  Artificial colorings, sweeteners, preservatives and hydrogenated oils are now understood to be very detrimental to the body and we don't serve items which contain these types of ingredients.  Obviously, this is a big step forward for health and well being.  Because it's very expensive to get a full nutritional analysis for each item, we haven't been able to do that yet however we hope to complete this in the near future.
Why did you open first in San Diego? (Is this a trendy spot for healthy news?)

Our San Diego location opened up at the end of January 2016 in an area called Ocean Beach.  It's an area where people come to surf, do yoga, run and generally lead healthy lifestyles.  That may be part of the reason why our restaurant has been so enthusiastically embraced by the local community.  However, I think that the trend towards healthy eating is really a nationwide phenomena.  Although our second restaurant) opening in May 2017) is also near the beach, we look forward to building new locations in a variety of different communities.   


How would you descibe the succes of your business so far?

We're thrilled at the success of our first restaurant.  From our first day of operation through the end of our first year,  sales have far exceeded our expectations.  I think that a lot of people have been looking for a healthier alternative to traditional fast food for a long time and that's one of the reasons why we've done so well.  We're also proud to announce that as a business we've been profitable in our first year.  Our investor group was pleasantly surprised to see us begin to disperse profits by our 2nd quarter of operation.  This is extremely unusual for a new business.  We've been receiving requests from people from all over the country and the world who have asked to franchise restaurants in their cities and towns.  Right now we're in the process of putting together a larger business structure that will enable us to begin expand more rapidly.
What do you believe are the health benefits of switching to a vegan lifestyle?
The consumption of animal products has now been conclusively linked to heart disease, diabetes, an increased risk of stroke, many forms of cancer and a variety of food allergies.  Decreasing the amount of animal products in one's diet is one of the most powerful changes that anyone can make to improve their overall health and increase their chance of longevity.  While plant-based food is healthier than animal products, it's still important to make healthy choices: A plant-based burger or salad is still a healthier choice than a vegan donut for example.  And of course, exercise is always an important part of a healthy lifestyle.   For anyone thinking about making a change, I suggest reading one of the many excellent books available on the topic or exploring a web site dedicated to plant-based choices.  And remember, small changes add up.  Some people may change to a vegan lifestyle right away as they understand the many benefits.  For others,  decreasing the consumption of animal products and increasing the consumption of plant-based food is a great first step.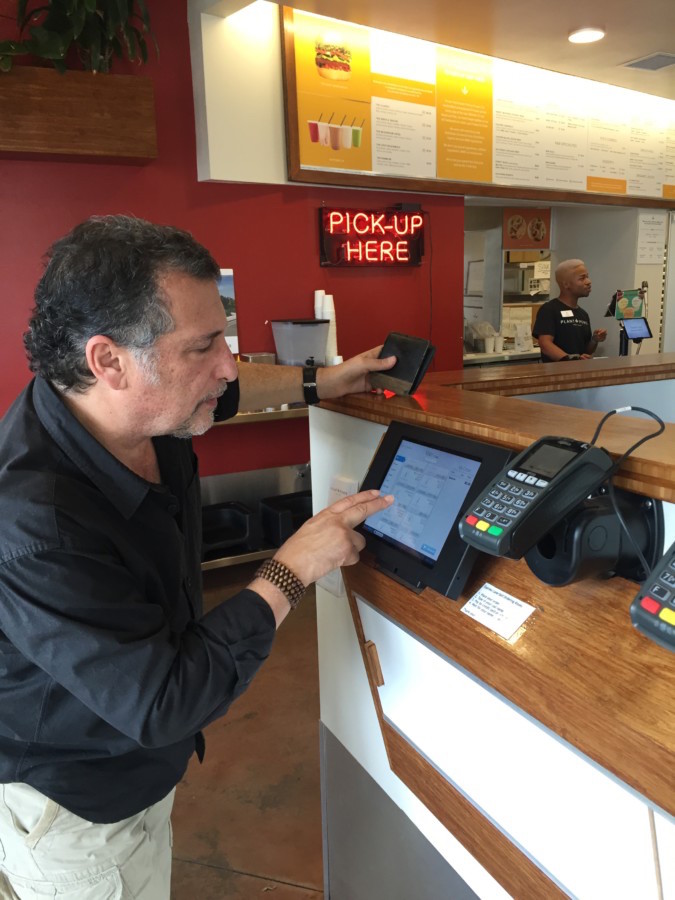 Would you consider open a cafe in Norway and what would it take?

Well, the easy answer is YES!  We do have a very big, global vision for Plant Power Fast Food.  However, our first step is to build a new corporate structure which will support that type of expansion.  We'll focus on California for the next year or so but we hope to begin to expand nationally as quickly as possible after that.   As I mentioned, we're getting requests from people all over the world for one of our restaurants in their city, so we know that the need is there.  Although we haven't completed the foundation for our franchise structure yet, we do feel that we will be prepared to develop join venture locations by early to mid 2018.  This might allow us to begin to slowly expand beyond the US and look at Norway or other countries where investors and consumers are expressing interest.  Of course, I'd love to have a chance to visit my new friends in Norway!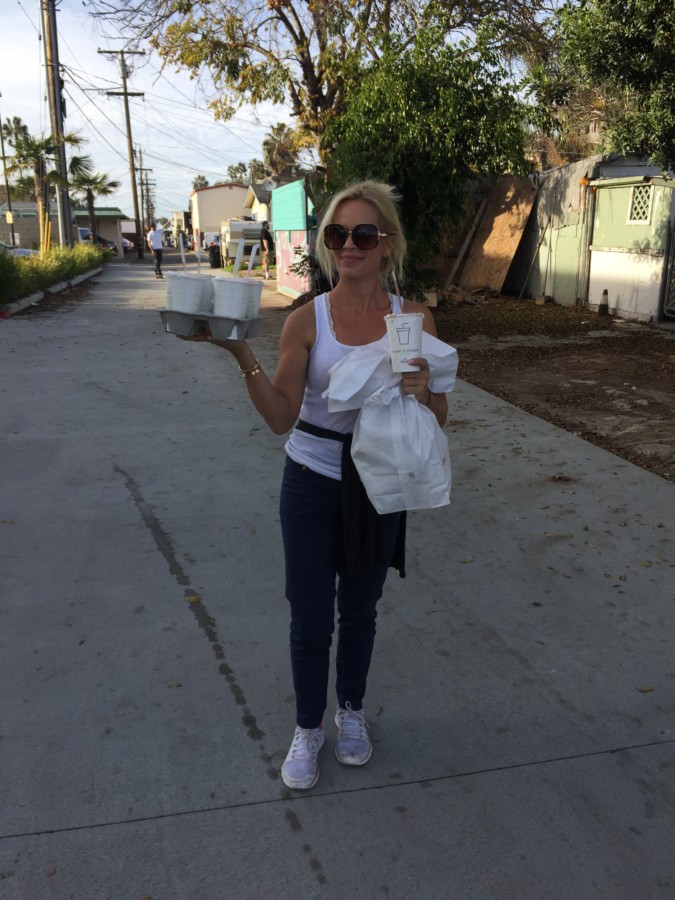 So there you go Norway. If I had the time I would have loved to open a Plant Power back home. I mean I am still dreaming of the milkshakes with nutty and creamy and coffee -ish taste, and the chicken "amazingly yummy" burger. The texture was a blast. So I had lunch at Plant Power and ate a huge menu. Then I was off doing all sorts of things the whole weekend. But before I was going home – I had to drive back to Plant Power to bring a full take away menu in car… I mean I was thrilled. And those shakes…..
Best wishes
Monica