Som over gjennomsnittet interessert i svømming burde jeg ha fått mine barn svømmedyktige i tidlig alder. Men det har jeg altså ikke fått til. Max var 5 da han knakk koden helt selv, og Mikkel som nå er 5 er i ferd med å lære. Men ved hjelp av svømmecoach Bobbi.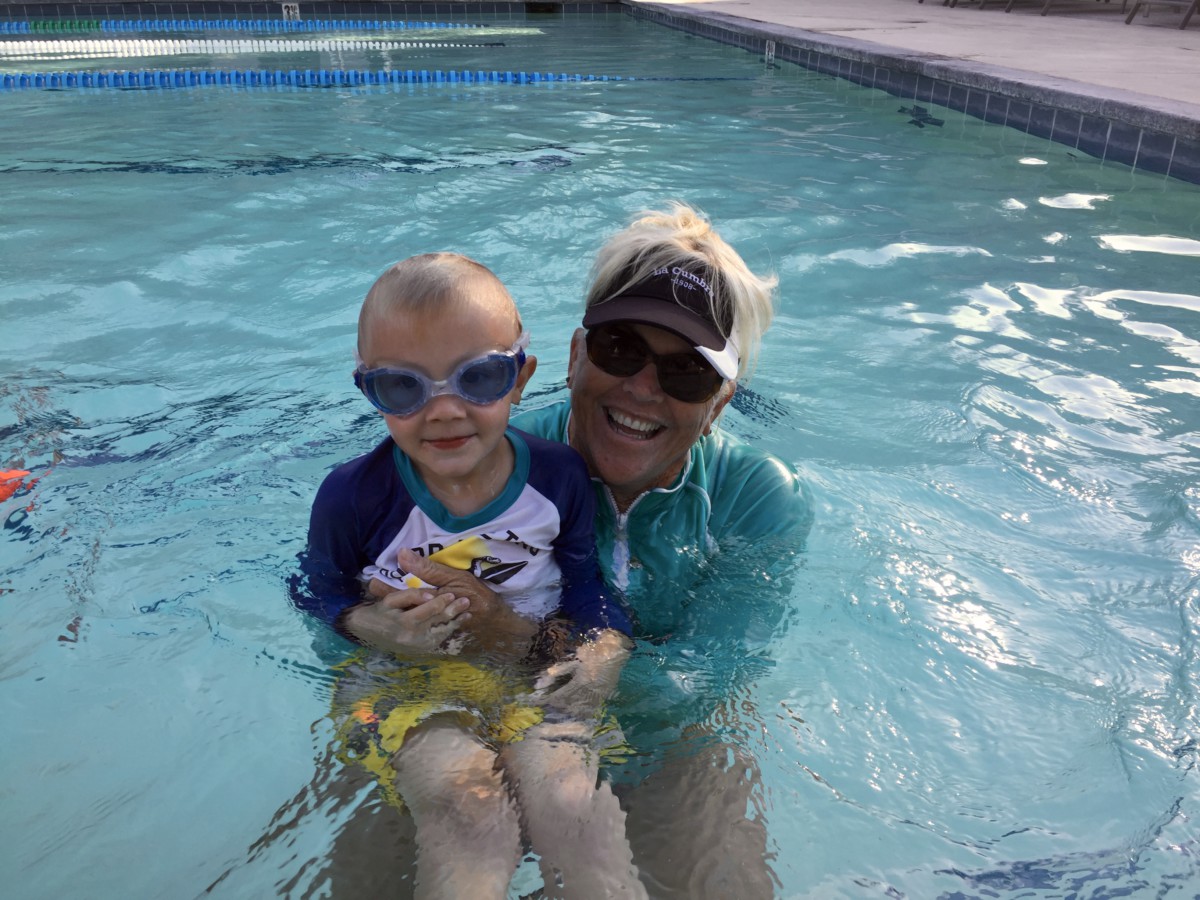 I Spania der jeg holder mye til lærer barna ofte å svømme som 3- åringer, det samme er det her i California. Min svenske venninne Jessica kunne fortelle at da hun var liten hadde de svømmetrening i Skagerak – altså i havet uansett vær hele sommeren. For å bli trygge og sterke i vann. Hun kan fortelle om iskaldt vann og 1000 metere, så det var ikke noe eksotisk Stillehavssus over den treningen. Men altså, jeg lærte på en klønete måte å svømme i 1 klasse som 7-åring, og jeg kan love dere at det var mangel på alt, teknikk, kunnskap og selvforståelse. Skrekkfullt å tenke på hvilket tilbud vi vokste opp med som barn.
Nå har jeg tatt fatt på svømmetreningen til minstemann, og det var særdeles nyttig lærdom. Jeg fikk nemlig tak i Universtitetslærer Bobbi Houghton som har undervist i 56 år, og i løpet av få uker er Mikkel ihvertfall selvhjelpelig i vannet. Noe som er regel nummer 1. Jeg vil derfor dele med dere disse tipsene gjennom intervjuet med henne som dere kan dra nytte av med egne barn, eller videreformidle til noen som trenger det. At et barn er selvbehjelpelig i vann er en enorm trygghet, frihet og lettelse for oss foreldre.
Hva er det første man skal tenke på når man vil lære et barn å svømme?
Det absolutt første man skal gjøre før man tenker på å lære dem å svømme er å undervise barnet hvordan de skal ta vare på seg selv i vannet. Det gjør man ved å øve på å finne frem til kanten og lære seg å klatre ut av bassenget. Uten å bruke trappene. Parallelt kan du trene barnet på ligge i en flat horisontal posisjon som er denne posisjonen man har når svømmer. Jeg er egentlig imot svømme-ringer fordi de gir barnet en feil posisjon i vannet og slik klarer de ikke å svømme. Det handler om hodestillingen. Øv barnet ditt på å få hodet under vann, og dine egne hender like under deres hodet og be dem se på hendene dine, da dukker rumpa opp og de er rette i vannet. Med en gang de skjønner at det er i denne flate posisjonen de vil bevege seg i begynner bena og sparke, så kommer hodet opp men da forstår de at de ikke beveger seg så hodet går under igjen, og slik lærer de.
«The more they learn in the water, the more you have to watch them and the dummer things they do, they can jump and hit their head. We want them first of all to become safe in the pool. How we do that is hold on to the edge and then teach them how to get out of the pool. They dont have to go to the stairs. Simultaneously you can put your kid in a flat body position so that they actually feel that their body is in the normal position that they will swim in. I am anti-floatier because they give the kids an incorrect body position where they cannot swim. Because your head is out of the water. They are vertical there as opposed to horisontal where they can actually move. Its all about head position. Try to get your kid to put the head into the water, and your own hands about 4 inches in the water, and tell them to look at your hands and they do and then the butt pops up. Personally I always wear a funny necklace, a turtle or a dolphin, I tend to change them a lot and I have the kids looking at them. And I am actually underneath so when they look down the neck straightens out. Once they learn that this is the position they actually move they will start kicking and coming up with their head but then they are not moving so eventually they will go down again and this is how they learn.»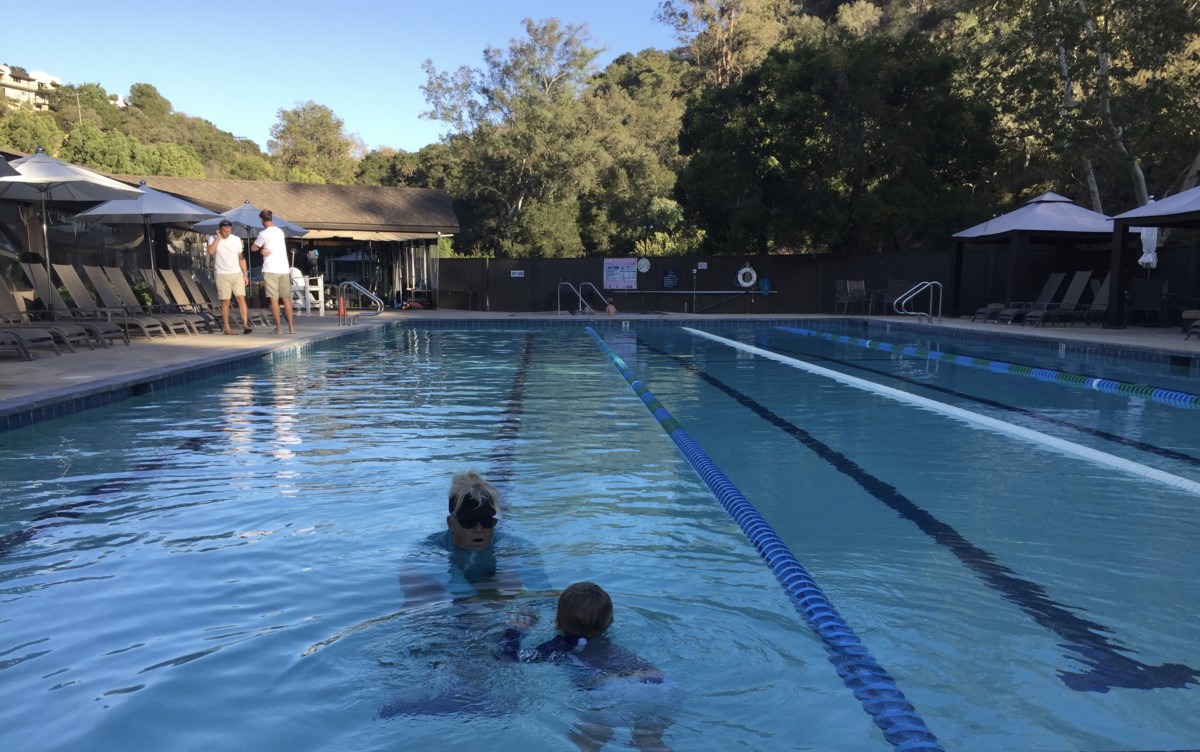 Så hva skjer videre etter at de er trygge i vann og klarer å få hodet under?
Det neste er å øve dem i å blåse bobler. Når ansiktet er under vann skal de alltid blåse bobler slik at de ikke får vann inn i munnen.De blåser ut og løfter så hodet for å trekke luft. Jeg jobber også med å få dem til å legge øret i vannet fordi lsik vil bena holde seg oppe bak dem. om de løfter hodet rett opp frontalt vil føttene falle ned igjen. Jeg sier: Blås bobler rett ned, og pust inn til siden.»
» The second thing I do is to have them blow bubbles. So whenever their face is in the water they blow bubbles so they dont get any water in their mouth. And when they blow out they lift their head and take a breath. And I do work with them putting their ear in the water because then their feet stay up behind them, if they lift their head straight up – then they end up vertical again. I usually say, «Bubble straight, side breath».
Hva anbefaler du foreldre å trene på?
Det er lurt å trene litt utenfor vannet. Ha barnet på fanget ditt, strekk ut bena, al deres ben få sparke over dine egne ben. Her kan du også jobbe med armene men barnets armer over dine. Alterner armtakene over dine og beveg dem mot bena. Slik bygger der muskel minne.
«The best thing to do is to work with them out of the water. Have the kid sit on your lap, straighten out your legs and make them kick their legs. And here you can also work on armpulls, the kids arms on top of yours and do alternate armpulls on top of yours, and push them to your leg. Great practice without water. They are building muscle memory».
Hvordan kommuniserer du med barnet under treningen?
Lag en kommando! Jeg starter alltid med en setning som de må si før de får lov til å bevege seg: » Bobbi ( eller mamma) – her kommer jeg. Så beveger barnet rett mot meg.
«Make a command! I tell them so say always when they start moving: «Bobbi here I come. They are not allowed to swim before that. Thats the focus and the kids will head straight to me.
Hvor lang tid tar det å få et barn svømme-bevisst?
Det kommer litt an på hvor ofte de er i vann og om de gjør det de skal med svømmingen når de er i vannet! Jeg foretrekker 2-3 økter i uken- så innen noen få uker har jeg dem svømmeklare. Dette er selvsagt dersom barnet er trygge i vannet. Jeg trenger ca 2 uker på å bygge tillit og vennskap, så tar det en måned.
«It all depends on how frequently they are in the water and if they are doing what they suppose to be doing while they are swimming. I prefer 2-3 times a week and then in a couple of weeks I have them swimming. Work and do this things and you will see. Try not to have 5 days in between. This is of course if a child is not fearful of the water. Then I need 2 weeks to build trust and friendship, once they start to trust me they will swim in a month or so.»
Om Bobbi fra UCSB:
Bobbi Houghton is an Aquatic Specialist. Currently Bobbi is an instructor at UCSB and Santa Barbara City College, the Aquatic Director at La Cumbre Golf and Country Club and the Lifeguard Supervisor at Hope Ranch Beach.  Bobbi has been a teacher for many years and loves what she does.  She teaches all ages to swim as well as teaches safety courses that keep individuals safe and healthy while around any body of water.
Bobbi holds a Master's Degree in Kinesiology from UCLA that has enabled her to analyze and correct all aquatic skills.  She has coached swim teams from Novice to UCSB Women's team from 1070-76 and was the Athletic Director for the Women's program at UCSB from 1973-76.  She has volunteered and been associated with The American Red Cross for 51 years. She is a master instructor for Water Safety and Lifeguarding programs for the American Red Cross and continues to teach and certify CPR/AED and First Aid courses at all levels as well as certify swim/aquatic programs. Aquatic activities, synchronized swimming, water polo, water skiing, sailing etc. are parts of Bobbi's background and she loves sharing with those enthusiastic to learn.
Ønsker du å friske opp din egen svømmeteknikk kan du kanskje finne litt inspirasjon her:
FocusGood, SwimGood & FeelGood
Klem fra Monica