Du har sikkert lagt merke til at stadig flere atleter har begynt å bruke tape på ulike kroppsdeler? Jeg var nysgjerrig på denne form for terapi og tok kontakt med kiropraktor Neal Barry som har studert teknikken i Japan. Kinesologisk taping er en teknikk man bruker for å redusere smerter og forebygge skader under idrettsprestasjoner, men det er mye mer enn det. Det viser seg at stadig flere treningsentusiaster sverger til behandlingsformen enten for å bli kvitt hodepine, «runners knee», smerter og kramper. Og noen – som meg selv for å gi avlastning til nakke og støtte opp for å få en god holdning.
Neal kan fortelle at tapingen kan alle gjøre, men det er spesielt egnet for rehabilitering fordi den gir støtte og avlastning fra problemområde samtidig som den strekker bindevevet slik at kroppen kan bevege seg friere.
Jeg spurte Neal om endel ting jeg selv lurer på og håper dette kan være til hjelp også for deg (NB bloggen miner under arbeid for superspennende oppgradering slik at den kan leses både på norsk og engelsk, i mellomtiden er det litt mix her når – tilgi  meg for det..)
What is the purpose of using kinesiology tape?
«Kinesiotape helps support and stabilize the soft tissue, and to some extent the joints…without limiting any range of motion (like old athletic tape historically would).  KT can also help with lymphatic drainage, decrease swelling, eliminate ecchymosis (black & blue) quicker, due to the stretchable quality of the tape»
Who is this taping meant for (only sportspeople)?
«Taping can be used on all types of people….depending on what your ultimate goal is:  sports enhancement, postural help, injury recovery. Studies done with athletes show more efficient muscular contraction and functional movement…without any extra work. »
How can taping help if you have runners knee issue?
«Runners knee results from an imbalance in the quadriceps muscles and/or imbalances in the foot / hip.  If the foot is stable and the tibia and femur line up properly, the kneecap tracks straight up when you contract quads (run).  Typically, the foot pronates, the medial (inner) quad muscle is weaker than the lateral (outer) one.  Ultimately, the cartilage on the backside of the kneecap wears away.  It typically isn't painful until a line of cartilage has been worn away and a bone on bone scenario is created.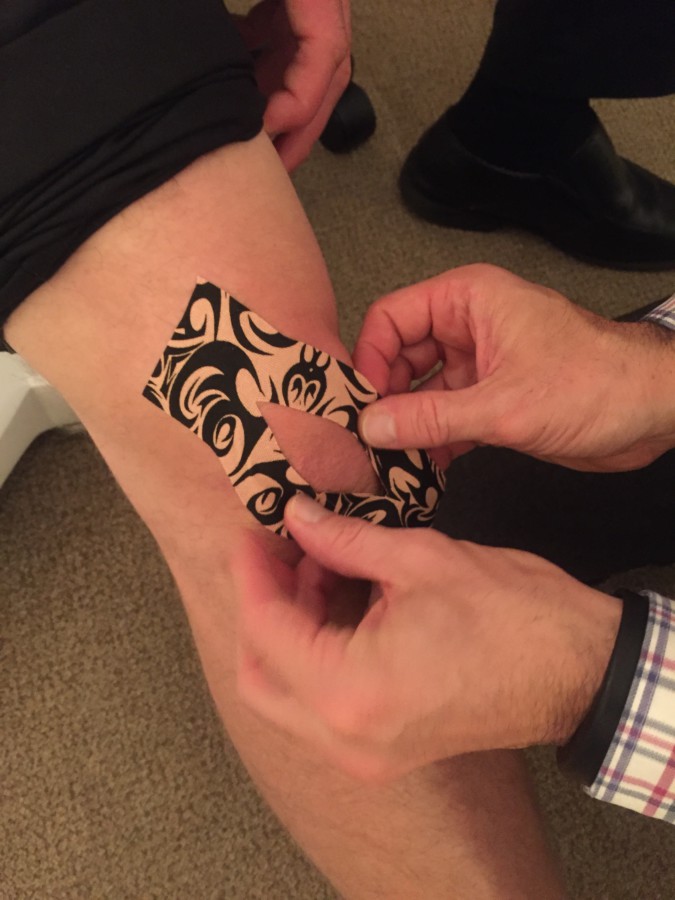 Kinesio tape helps reinforce the medial quad muscle and keeps the patella in the groove of the femur, not letting it track laterally (out) and wear down.»
How can taping be used to improve your posture?
«Kinesiotaping can also be used to proprioceptive feedback.  That's the fancy way of saying that the tape is put on with about 50% stretch while in proper postural positioning, and then your brain will detect when that stretch changes, ie: when you start to hunch over. It's a mental trigger that allows you to feel and realize that you're falling into a bad position / posture.
We also apply them in vertical strips alongside the lumbar spine so that an individual that sits at a desk all day and slouches forward, more from the lower back than the shoulders, will feel that pull as well and be triggered to sit back up straight.»
 Is there different taping techniques and which ones are most used? (strip, fan cut, web cut, Y strip, star cut, donut hole…) or most efficient?
 «Tape can be pre-cut or cut into 'shapes' to fit around certain body parts…strips up the spine, donut hole for patellar tracking issues, grid-like for swelling, etc.  Pre-cut is not better…it's just easier on the practitioner to not have to do the additional work.»
Så er du litt av den nysgjerrige typen som liker å teste ut kan jeg anbefale taping. Jeg har selv kun brukt det på midtryggen. Det er to årsaker til det:
1. jeg bruker skuldre og nakke mye i treningen min og følte for å avlaste dem noe
2. jeg er stiv i midtryggen
 TapeGood, FocusGood & FeelGood
Monica